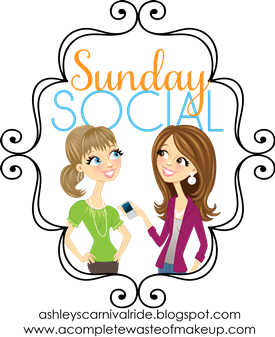 Today, I am linking up for another Sunday Social graciously hosted by
Neely
&
Ashley
!!
Away we go.
What is your ideal way to relax:
- In my Dream World I would be having
a glass
glasses of wine, in a hammock at the beach, with no mosquito's, and a nice ocean breeze.
- Reality. Pedicure and a book. If I'm lucky some wine.
Where is your favorite place to be:
- My Kitchen
(when it is clean)
I like being there because I can control everything there. I've got it all taken care of.
Who do you consider your biggest role model:
- I don't know if I just have one. I pick up lots a little things from lots of different people.
What does your life look like in 3 years?
- Hopefully, more kiddos running around. I am pro at this blogging thing. Nice house with a NICE backyard. Following my dream of staying at home and selling stuff on Etsy. Completely organized. Healthy too.
If you could go back and change one decision what would it be?
- Not quiting college.
What is your biggest accomplishment in life thus far?
- My husband and son. Also, taking a huge leap of faith and moving 12 hours away from everything we knew and loved to do this all alone.
Hope y'all start your week off great!!!